Ashland Sewer Class Members
If you received a Settlement Notice regarding Bayfront, LLC, et al. v. Short Elliott Hendrickson, Inc., et al., Case No. 10-CV-41 brought in Ashland County Circuit Court and are seeking to review a copy of the full Settlement Agreement a link to the full text is available here.

For more information you can call J.D. Feriancek at 1-800-279-1910 or write to Thibodeau, Johnson & Feriancek, PLLP, 800 Lonsdale Building, 302 West Superior Street, Duluth, MN 55802 to get answers to questions about the Settlement, plus other information to help you determine whether you are a Class Member and whether you are eligible for payment.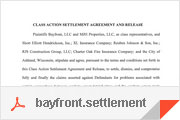 Download and view .pdf